Archive for February, 2012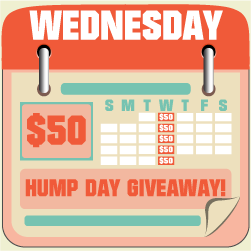 Thanks to the 27 wonderful bloggers listed below, it's time for Hump Day $50 Giveaway once again. This week's task is for Facebook Page likes which is super easy to do. Feel free to visit all the wonderful blogs below once you're done entering the giveaway. You can log on to Rafflecopter via your Facebook account, or your name and email (just make sure you're Facebook is opened so you can easily like the pages).
Once you've liked the page (Like button turns gray), leave your Facebook Profile Name (not a Business/Blog Page) on the space provided for Extra Info after doing the task so we can verify your entry. It would be best if you enable us to see the pages that you liked in your info tab so we can announce the winner ASAP.
My Tots Exactly | Frugal Experiments | Life's Cheap Thrills | Building Carpenters | Beauty and Fashion Diva | Money Saving Mindy | Exotic Philippines | Wrap to Lose Inches with Jolene | The F Blogger | Fashionilicious | The Beauty Encounters | Happy Mothering | Mommy Coupon Swappers | Shop Vintage Clothing | Samut Sari | Teach Me 2 Save | Online To The Fullest | Deals By Gengen Blog | Swexie | Fit N Fab | Hott Mama in the City | WAHMaholic | WAHMaholic Blog Designs | Eating Out | Sonya's Happenings | FoodQuest | My Bric-a-brac
A note: Please join only on one blog/page PER GROUP. A maximum of 32 entries will be considered. If you have more than 32 entries, the host reserves the right to delete duplicate or fraudulent entries. Also, please use only one name and email address, or Facebook account for quicker validation of entries.
On the first mandatory entry, please write Deals By Gengen referred you. You must complete the first 2 tasks before the others are enabled.
Thank you very much and good luck. By joining this giveaway, you agree to the Terms and Conditions on the bottom of the form. Contest is open all-day Wednesday, from February 15th, 12:01am EST to February 15th,11:59pm EST (February 15th, 1:01pm Philippine time to February 16th, 12:59pm Philippine time).
Write Deals By Gengen on entry #1
For a chance to win an additional $50, head on over to Delight My Appetite(click here) and don't forget to write Delight My Appetite in entry #1. Good luck!
This blue jeans toddler jacket is a pre-owned one but in excellent condition. Your little one will like it and also it will help her to keep warm. If you are interested you can come and look around my store blog at
Deals By Gengen
. See you often… –
#43 366 BPC
–
* Price: $4.00
* Shipping: USA – $3.50
* Availability: 1
* Size: 18 months
* Condition: Very Excellent
* Manufacturer: Bangladesh
* Materials: 100% Cotton
* Color: Blue Jeans Jacket
This blue ladies blouse is a great fit to your jeans. It is a pre-owned one but still in good condition and you can wear it in the mall or casual get together. Do not forget to visit my store Deals By Gengen….
* Price: $5
* Shipping: USA – $3.00
* International shipping: Contact me
* Availability: only 1
* Size: L
* Manufacturer: USA
* Materials: 90% polyester & 10% Spandex
* Color: light blue
* How To care: Hand wash cold with like colors. Lay flat to dry. Do not bleach and low heat iron.
I have another beautiful and fashionable teenager's dress. This is a pre-owned but in excellent condition no tear and no stain. Your teenager of if you fit this dress then i am sure you look awesome. I show this dress to hubby and he said that is gorgeous. — #41 366 BPC–
Here are the description of this dress:
* Price: $9.00
* Shipping: USA – $4.50
* International – $10.00
* Availability: 1
* Size: M
* Condition: Very Excellent
* Manufacturer: Philippines
* Materials: 100% Polyester
* Lining: 100% Polyester
* Color: Flowered Orange/Yellow
Another day more listing to post. I make a blog for my clothing store and the light blue knit sleeveless blouse is one of them. They are just cute good for warm temperature. It is one size and made up of 100% rayon. It is surrounded with small crafty beads for decoration i guess you can see it in the pictures. I have other design and colors yellow green and lavender. I like them but i am just shy to wear sleeveless heheh.. You can visit at "
Deals By Gengen
". I will link also this one to
#39 BPC
….
What is your favorite color? I like blue, pink, white and red. The yellow green blouse below is available in my store. The size of this blouse is Small and i have two available right now. You can buy this blouse for only $6 plus shipping. IZOD is the brand of this blouse. –#37 366 BPC
We still have the cold days even in the other states the snow is really thick. In our place its warmer and we like it. Some people said that it might have an early spring. Anyway, the red boys jacket is a pre-owned one and you can have it for only $2.75 plus shipping. I already listed this at my store so you can check it anytime.
I started by Deals by Gengen store the other day and this is just the place where i will post all the items i sell in that store. This is a blog for whatever stuffs i am going to bargain. I like sales and deals so if you are just like myself then come by often. Saving money is important and i am sure you agree with me. Maybe only few people did not care the money they spent but those who save money always care about their spending habit. Anyway, have a wonderful day to all.